16th Anniversary Dinner
Registration: Eventbrite.com
Ventura Missionary Church
Nov. 13th. 2021 – 4:00 p.m.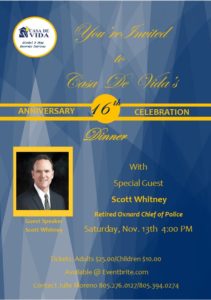 Walk/Run For Recovery 2021

https://www.eventbrite.com/e/walkrun-for-recovery-2021-tickets-174444416947
Registration is now closed. Registación está cerrado.
Virtual Walk/Run For Recovery 2020
Nov. 28 – Dec. 12, 2020
We're hosting a new event, and we'd love to see you there. Join us for Casa De Vida's Virtual Walk/Run For Recovery. Get together with a small group of friends or family and walk around your favorite area of town or neighborhood in honor of someone who has faced or is dealing with substance abuse. Please send us pictures and let us know how your walk went. This events ends on Saturday December 12th, 2020.
We hope you're able to join us!
14th. Annual Graduation/Fundraising Dinner
Ventura Missionary Church
April 27th. 2019 – 4:30 p.m.
Tickets
 Adults $25    Children $10
For more information:
www.casadevida.net
805-276-0127
---
2018 5/10k Walk-Run for Recovery Honoring Jose D. Moreno
November 17, 2018 at 8:00am
 REGISTER HERE:
https://www.active.com/ventura-ca/running/distance-running-races/casa-de-vida-5-10k-walk-run-for-recovery-2018?cmp=23-126&fbclid=IwAR3vbspAmcwv6rcUrOU_-U1y-W0Wku-l57yNaD8akXtSlLAPX6D56pO3qts
PAST EVENTS
2018 Graduation Fundraising Dinner 

Online Order Form:
Click on Link below to order Dinner Tickets and Make Payment by clicking on Pay Pal "Donate" button.

13TH ANNIVERSARY FUNDRAISING DINNER

Ventura Missionary ChurchWillett Center500 High Point Drive, Ventura, CA
Tickets: Adults $25.00 and Children $10.00
Contact: Julie Moreno: 805.276.0127
Reservations via Email:  life@casadevida.net
Tickets Purchase Via  — PayPal:  www.casadevida.net
Mail Pmt: P.O.BOX 665, Port Hueneme, CA 93044